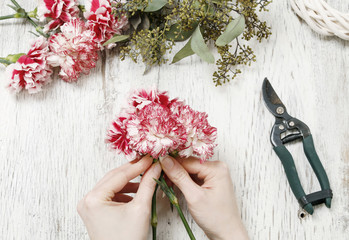 Queen of Hearts and Modern Love will have flower arrangements available to you in two price points, $25 &35! We will also have chocolate covered caramels and flavored caramels from Big Picture Farm located in Townshend, VT
$25 Arrangements will include the following: Hydrangea, Carnation, Hypericum, Cushion, Alstroemeria. Dianthus and will be an arrangement of softs pinks, greens and whites
$35 Arrangements will include the following: Roses, Dianthus, Carnation, Eryngium, Mayra, Bellalinda and will be an arrangement of vibrant red, purples and lavender.
You can pre-book an arrangement if you wish by calling your stopping by with a 50% deposit.
Along with that we will be selling arrangements and chocolates in-store February 13th – 14th!
We will also have a lovely assortment of treats from Big Picture Farm, started in 2010 by Louisa Conrad and Lucas Farrell (and now joined by our daughter, Maisie), Big Picture Farm is a small hillside goat dairy and farmstead confectionery and creamery located in southern Vermont. Their award-winning goat milk caramels and farmstead cheeses are made with fresh, raw, creamy goat's milk from our herd of 40 healthy and happy, free-ranging companions. An Animal-Welfare-Approved farm, the health and happiness of our animals is the center around which our farm and farm products revolve.
-Shanice